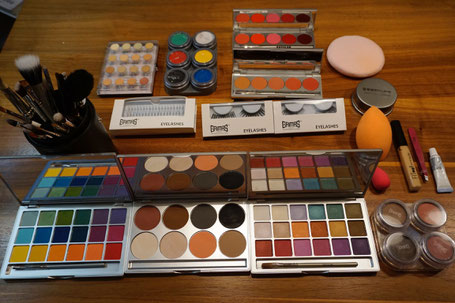 The journey has started!
The first week at MAF is done!
We started our first week with a great day, my birthday, do you want to know more about my birthday celebrations? Click here.
We are 16 students in our class all really lovely personalities and we all made friends in this short time, which I believe is an amazing basis to achieve the most during this 12 weeks together. Our main teacher is Gabriela Schumann, but we call her Gabb. We are also going to have guest lecturers, but I will tell you about them in further blogposts.
Now I want to tell you more about how it went and what we already learned.
First of all we got our Equipment (which you can see on the picture above and in close up in the row under the text, there is a real-hair-haircuttinghead missing), which was naturally amazing and felt like Christmas and birthday in one. we went through all the products and talked about their usage.
On the second day we started off with the practical part off the education, the first topic we went through was eyeliner and falses lashes. In the afternoon we added foundation, how to prime right, how to find the right colour and of course how to apply it right.
On Wednesday we stabilized the things we learned on Tuesday by repeating them over and over again and in the afternoon we went on with camouflage and concealer.
On Thursday my classmates and I learned how to create the perfect eyebrow for each different face and in the afternoon we went the next step and started of with how to contour lips right, which was a lot heavier than I tought it would be!
Friday is theorieday, on our first Friday Gabb teached us about colours, complementary colours and their impact on the viewer.
All in all, I loved my first week at MAF and I am really exited for the next to come!